At Revival Beds, we've been handcrafting sleigh beds with drawers since 1983

All wooden sleigh beds in our collection are handmade from the finest materials in Nottinghamshire and are available with 2 under bed storage drawers incorporated into the design, to provide 10 cubic feet of additional storage space.
All beds also come complete with free delivery and installation by our experienced team, so you don't have to worry about following instructions or lifting heavy objects.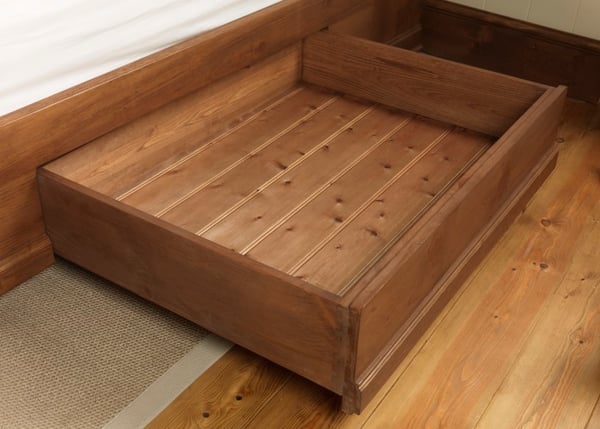 There are many benefits to wooden beds with storage drawers. For example, they allow you to de-clutter the bedroom, update your decor and provide a larger footprint by replacing tired or warn-out pieces of furniture, such as an ottoman or chest of drawers.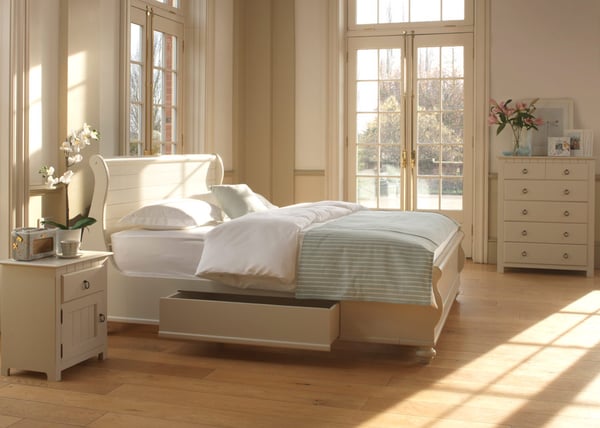 Sleigh beds with drawers also provide easy, quick access to both large and smaller items that can be stored away neatly out of site - such as clothing, bedding sets, DVD's, photo albums and paper work.
Premium quality
Just like our handcrafted beds, our large storage drawers are handmade from the same premium solid wood and are built with traditional dovetailed joints for extra strength and durability.
Unlike some sleigh beds with built in storage, our handmade drawers glide open effortlessly thanks to sturdy runners, not castors, meaning they won't catch on carpets or rugs and will last for the lifetime of your sleigh bed.
Our master craftsmen are committed to creating high-quality bed designs that are functional, which is why each of our storage drawers is the size of a large suitcase.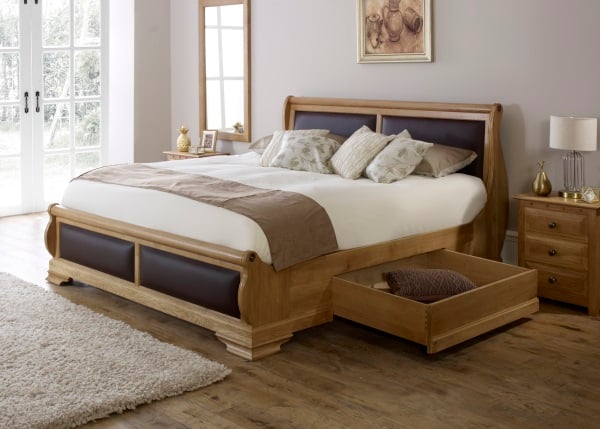 Solid wooden beds with storage drawers
Looking for more bedroom storage? Our traditional beds, New England beds and four poster beds can be incorporated with 4 under bed storage drawers to provide 16 cubic feet of additional storage space.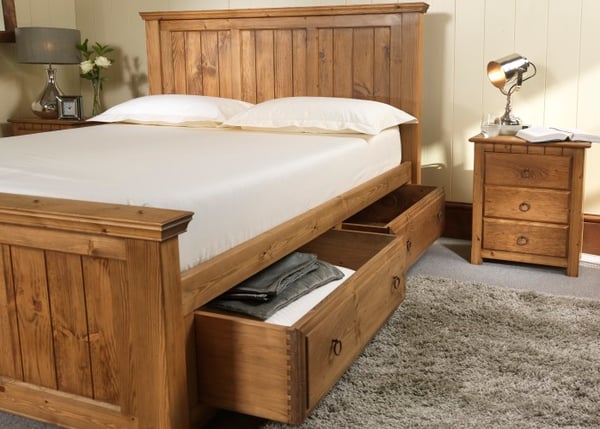 Our beds are available up to 8ft wide and in a range of natural wood and hand painted finishes. We can even provide a colour matching service.
Every bed is handmade to order and comes complete with free delivery and installation, as well as a 10-year guarantee.
Download your free brochure
To find out more about our collection of handmade beds, furniture and storage options, simply click on the link below to download your brochure.