How to Design Your Dream Bedroom in 4 Simple Steps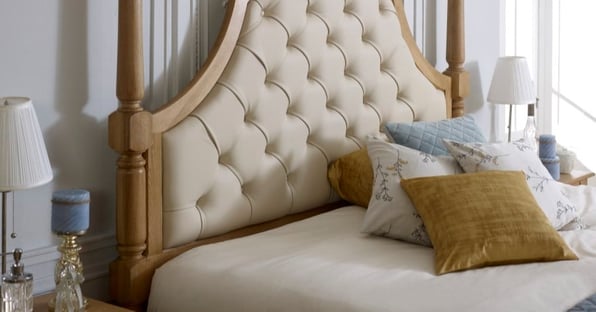 Designing your dream bedroom sounds like a tall order but it's surprisingly simple to build a sophisticated boudoir with these four simple steps.
There are few hard and fast rules when it comes to designing your dream bedroom. After all, it's such a private part of your home that only you, your closest family and friends will be privy to.
However, these guidelines will help you to make the most of your space, ensuring you can decorate your bedroom to a superior standard and enjoy an excellent night's slumber.
1. Select a Style
Before you buy anything for your bedroom or begin taking measurements, you'll first need to anchor your inspiration and select a style for your bedroom.
Bedroom themes come and go, with some styles like mid-century, minimalist and modern farmhouse forever on the books. Others, only get their fifteen minutes of fame.
A stunning mid-century master complete with panelled walls and vintage art.
To figure out which style—trending or timeless—is right for you, ask yourself:
Should my space appear rustic or contemporary?
Should it feel industrial or elegant?
Is my style streamlined or eclectic?
Am I more comfortable with tonal interiors than bright and bold decor?
Are there any other influences I want to incorporate?
There's no right or wrong answer when it comes to selecting a style. After all, how you style your home is up to you, regardless of what is or isn't popular.
That said, if you want to play it safe, stick with something classic like the sophisticated coastal interiors of a typical Hamptons home or a French-inspired boudoir.
This Hamptons inspired home uses soft blues and stripes to create a calm, coastal look.
However, if you're a little more daring and don't mind adopting a short-lived interior look, take the plunge with all things trending from rose gold accessories to quirky tiles and terrazzo textures.
This terrazzo wall makes a striking interior statement in a fun, fresh bedroom.
Ultimately, you should pick which style feels right for you (and your significant other, if you have one). Bedrooms are a private place for rest and relaxation—and their decor should reflect this. Each and every time you step into your exclusive oasis, you should feel calm and comfortable, knowing that every single aspect of the room is just the way you want it.
Whatever your taste, inspirational platforms like Pinterest will assist you in finding the right theme while design tools like Canva can help you to create a quick, creative moodboard.
Flicking through luxury magazines or scrolling through their online articles is also a great source of interior ideas. We recommend reading The World of Interiors, Country Living, House Beautiful, Period Living and House & Garden—all of which we've been featured in.
2. Pick a Colour Palette
Now you have the blueprint for your dream bedroom, it's time to put it into colour.
Sometimes a distinct interior theme will dictate the colours we can use. More often than not, you'll be free to play around with colour, giving new life to old favourites or old-worldly wisdom to more modern interior concepts.
For example, rich reds, dark greens and jet black can give instant authority to a cool, contemporary bedroom. In other rooms, bright colours and clashing prints can animate traditional furniture and fixtures.
Dark walls add depth, drama and an air of experience to this otherwise bohemian, Bali-inspired bedroom.
Some colour palettes are easier to put together than others with tropical themes invoking the obvious deep greens, warm tones and a splash of burnt orange. Those that are harder aren't necessarily colour schemes you should stay away from as it can be fun to have the freedom to break the mould and experiment with tones and textures that aren't always seen together.
A custom colour scheme is often birthed by a wall colour, in this case, duck egg blue.
If you have enough ambition to test and trial different colours, it's always easier to start with a primary shade and see what else looks good beside it. Often, a feature wall can inspire other accent colours to be used throughout soft furnishings, lampshades and rugs.
At this point, it's a great idea to pick up any material samples so you can see colours as they really appear, as well as explore their textures and the glossiness of their finish.
3. Look at Your Layout
Designing your dream bedroom is as much about the space being useful as it is about appearing attractive.
While we all want our bedroom to have the wow factor, it must also be able to serve its purpose. First and foremost, bedrooms should be cosy, comfortable spaces that enable us to enjoy our slumber. For many of us, bedrooms extend to more than this, also helping to house clothing, provide space for study and an area to kick back and relax.
For this reason, it's important to consider our bedroom's layout, dimensions and overall square footage.
Smaller bedrooms will need to work hard to maximise their space, hiding storage and providing the illusion of extra room wherever possible.
More modest spaces like this benefit from custom-built storage that allow excess items to be hidden away, giving what would otherwise be a cramped space a streamlined look.
Yet, more spacious masters also come up against their own obstacles. In larger bedrooms, furniture can easily feel swallowed up by an overabundance of floor and wall space. So, it's important that you invest in custom furniture built to the right scale, as well as plan for a configuration that looks compositionally correct.
A sprawling suite can use pictures, large lampshades and additional furniture such as ottomans to frame the space and stop the bed from feeling lost in a sea of space.
Aside from noting a room's overall size, it's important to consider any awkward alcoves or other unusual spaces and think about what you'll do with them. For example, alcoves can make great secondary areas for reading, relaxing and other activities when you make use of their full potential. Yet, they often require custom furniture that is guaranteed to fit.
So, get your measuring tape at the ready and start planning how your dream bedroom will look in practice, remembering its overall style and colour story.
4. Find Your Furniture
Lastly, you'll need to find the furniture that ticks all of your dream bedroom boxes.
Does it fit your chosen style?
Does it come in an appropriate finish and colour?
Can it be placed in its intended space?
Contrary to popular belief, finding furniture is probably the hardest part of designing your dream bedroom as up until now the planning has been purely conceptual. When it comes to actually choosing which pieces to pair with which, that's when the real work comes into play.
Plus, you need to always be thinking about the style you've chosen, your colour palette and its practicality, depending on the size and shape of your room.
It's a tough challenge, but it's made easier by buying every interior piece from a matching furniture range.
How to Design a Bedroom with Matching Furniture Sets
There's no question about whether your bedside cabinets, bed frame and dressing table will match when they're all part of a matching set.
What's more, if you can find a matching bedroom set that is in the interior style you love, your job is made even easier, removing the need to embellish the base of your bedroom with other items and accessories.
The only downside of investing in such a streamlined design is its lack of exclusivity and the knowledge that it won't be unique.
With our Collections Brochure, we give you the best of both worlds. You can choose from countless high-quality, solid wood bedroom sets that are all completely customisable. From the wood stain to the colour of leather upholstery, everything can be adjusted to suit your individual needs.
So, your creative brief can be fulfilled to the highest standard using handcrafted solid wood furniture that's made exclusively in Britain.
To download a copy of our Collections Brochure, click the link below.