How to Design a Quaint New England Style Bedroom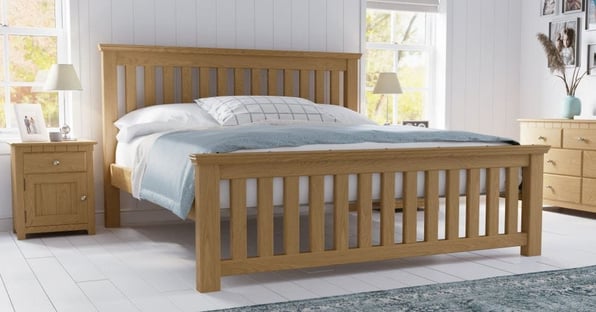 The New England style is all in its name. It's a new England style, brought to the northeastern region of America in the 17th century.
The result? An uncluttered, sophisticated look that boasts British heritage mixed with the relaxed, coastal landscape of the region's most thought-about states; Maine, New Hampshire, Connecticut and Rhode Island, all included.
So, how can you achieve the same laidback style in your lair?
1. Keep it Clean
The New England style is cool, calm and collected. It's worlds away from a vintage aesthetic where clutter is endearing. Instead, it relies on crisp lines and clarity in its landscape, forcing designers to think more carefully about each interior element to decide if it truly deserves to take up space.
Whitewashing walls, brightening wooden furniture with a lick of paint and adding neutral accessories all lift the space.
In short, those who achieve a New England aesthetic take a note out of the philosopher Charles Bukowski's book in that they don't try so hard. Picking fewer elements to fall into place helps to ultimately curate a natural look.
2. Play it Safe With Coastal Colours
You don't always have to stick to the seaside shades of white and blue — but in designing a New England style bedroom, it helps. Further in this blog, we include a warmer-toned option for those who are comfortable with a new take on English charm. Most people, though, will want to embody English heritage and its place in the New England landscape by hammering home the hues we most often associate it with.
While we advocate using coastal colours to create New England bliss, we advise that you avoid coastal cliches such as involving anchor motifs or overusing stripes to get the point across.
Your colour palette can resonate with any who enters your abode in subtler and more sophisticated ways. Try introducing blue in unexpected fabrics like velvet or silk. If you're pushing patterns in your project, limit it to luxury drapes and keep the rest of the place pristine. In doing so, you can nod to coastal colours without making their presence feel contrived.
3. Imagine it in Any Room
Struggling to envision New England in your current master suite? Don't feel defeated as this style can suit any bedroom configuration, be it a guest double or a family twin. In fact, as New England style is so ingrained in world history, there's room to innovate across the board, allowing you to consider warmer-toned takes on the style and more simple layouts.
In twin rooms, New England style bedrooms often use repetitions of pattern to draw attention to individual sleep spaces. So, blinds, bolster cushions, and other soft furnishings can help your room stand out without feeling garish.
The bed, too, is essential here, allowing you to harmonise and add character to the room. Handcrafted beds sit better in such settings, offering something unique in terms of headboard shape and style.
4. Craft a Colonial Look
For an authentic New England aesthetic, colonialist features need to make an appearance. As New England style originated in the 17th century, it was often seen in colonial properties (usually side-gabled, wooden houses). As such, wood panelling and handcrafted beds are abundant in New England homes — both old and new.
New England beds often show a shaker style, made from light woods and a single panel headboard. These beds are simple and never overthought, giving just enough elegance in their intricacy without feeling too fussy in the overall landscape.
Although more often finished in natural oak, they can also appear in more dramatic finishes with deep, old wood stains. Really, there are no rules around handcrafted beds in New England spaces, except that they play a large part in their creation.
Handcrafted beds and other handcrafted wooden furniture lay the bare bones for colonial projects. When paired with the right coastal colour palette, they make New England style effortless to achieve.
Close the Page on Your New England Project with Our Collections Brochure
To lay the foundation for a New England escape, explore our Collections Brochure to end your search for high-quality shaker beds and other accessories. From luxury drapes to matching bedside cabinets, we have everything you could ever need to close the page on your project.
Download your copy by clicking on the link below.