Homegrown and Handcrafted: Why Choose British Bedroom Furniture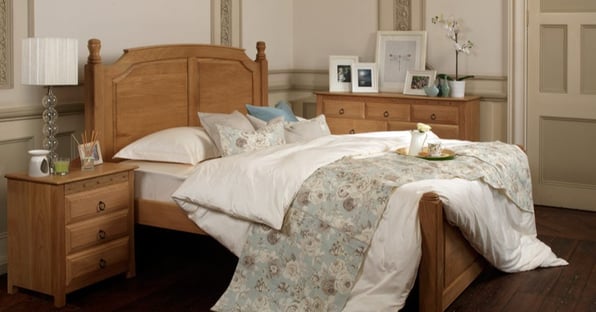 Sometimes we can feel tempted to source furniture for our home from faraway places and exotic locations. Moroccan Berber rugs, Chinese porcelain table lamps and Egyptian cotton sheets are all examples of popular interior imports. However, much of what we look for in a high-quality, sophisticated supplier might be readily available right on your doorstep.
As British furniture makers—who handcraft every item in our Nottinghamshire workshop—we feel passionate about championing homegrown, handcrafted furniture and we believe you should too.
In this blog, we'll explain why you should choose British bedroom furniture the next time you need to modernise your master bedroom or revamp your guest room. From sustainability to tradition, there are plenty of reasons to back British furniture.
Quality Assurance
Knowing the exact location of a furniture workshop assures that the craftsmanship, materials and ultimately, the finished product are of the highest quality. Generally speaking, British furniture workshops never outsource any part of the production process—unless they state otherwise. So, you won't find inconsistencies in any part of the finished piece, be it the wood's grain or the skill of its assembly.
This is the case for our Nottinghamshire workshop, where all work is carried out on-site. At Revival Beds, we have stringent quality control processes, select supplier lists and a small team of 12 craftsmen working on any single project. We exclusively source the finest grade timber, using either European Oak or a combination of Quebec Yellow and Scandinavian Redwood. As for our other materials, the finest Italian leather and natural wax are the only worthy companions.
We support our commitment to quality furniture with a 10-year guarantee and a 21-day money-back promise. We ensure no Revival bed is better than another, with every single frame finished to the same, superior standard.
Also read: Our Bed Manufacturing Process: Follow the Journey
Reduced Carbon Footprint
Fewer transport touchpoints usually mean a more modest carbon footprint, with less fuel, energy and resources set aside for shipment. In turn, buying British furniture helps us style our homes in a more sustainable way.
Homegrown, handcrafted furniture is a cleaner, greener way to decorate.
That said, it's always best to conduct independent research into the company in question and never assume their environmental standards are high just because they're based in Britain. Again, much of what makes a furniture supplier truly sustainable rests on its supply chain.
Finally, solid wood specialists are inherently more environmentally friendly than those making furniture out of cheap, plastic materials. Wood is a good choice for energy efficiency and the environment as it's a renewable resource that should last for a lifetime if treated properly.
At Revival Beds, we continue to work more on sustainability by improving our methods. Some ways we do this include:
Any scrap wood we can't possibly re-use is taken away by a farmer who uses it.
Sawdust produced is taken to a local horse sanctuary and used there.
Protective sleeves are re-used on the furniture instead of plastic wrapping.
Time-Honoured Traditions
Perhaps the greatest motivation to buy British made furniture is for its time-honoured traditions.
Cabinet making and wood carving have long been entwined in British history, with the Tudor period producing some of the most notable woodwork artists. Indeed cabinet makers and carpenters have been making iconic furniture in Britain for centuries.
At Revival Beds, we continue to contribute to this legacy, passing down tools and techniques through various generations of makers.
Although we utilise modern technology in some parts of our making process, the majority of our production is still done by hand to achieve a completely bespoke finish. For example, we still apply and buff natural wax by hand to achieve a traditional finish.
Time-honoured traditions also spill into our designs. The Windsor Bed, The Mackintosh Bed and The County Kerry all nod to our British heritage taking inspiration from famous faces and places in and around Britain.
Future-Proof Furniture
When something is homegrown and handcrafted it instantly becomes a family heirloom, with the possibility of bestowing fine furniture to the next generation and beyond.
What's more, local makers can craft additional items in the exact style, shape or size you require, meaning you can continue to invest in your interiors over the years, as and when you need to.
At Revival Beds, we make it easy for our customers to build a worthy solid wood furniture collection. Our handcrafted, wooden beds are all designed to match other pieces of bedroom furniture, be it a bedside cabinet, wardrobe, dressing table or blanket box.
To see all of the furniture ranges we offer and our high-quality, handcrafted accessories, browse our Collections Brochure.
Download your copy by clicking on the link below.