Solid Wooden Beds & Bedroom Furniture Manufactured In The UK
Below you will find further information about our sustainable working practices at Revival Beds.
Sustainability – raw materials
Our collection of handcrafted beds, include sleigh beds and four poster beds are made from a combination of Scandinavian Redwood and Quebec Yellow.
These are 2 of the most sustainability types of wood that can be used, because they are fast growing and replenish quickly.
Due to customer demand, in 2015 the business began to manufacture the same bed designs from solid oak.

Being a bed manufacturer – sourcing materials
Oak is a much slower growing wood, so there will be sustainability issues with bed manufacturers that are not working towards a forest certification system (FSC).
We source the finest German oak from our trusted suppliers. The solid oak we use is 150-200 years old and this is for two reasons:
1) The oak is mature and very strong – this ensures we can manufacturer to the highest of standards.
2) This is a fully sustainable program – the oak trees are not harvested until they're towards the end of their life-cycles.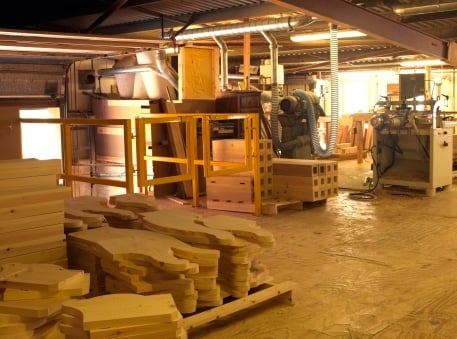 High forest management is the predominant silvicultural system in Germany.
Part 2 of being a bed manufacturer and working towards sustainable practices, will look further into the problems created by harvesting trees unethically and the negative impact it has on our environment.
Download Your Free Brochure
We are a UK bed manufacturer that have been using the finest sustainable materials since 1983.
Our collection of solid wood beds and bedroom furniture are handmade from solid European oak, Quebec Yellow and Scandinavian Redwood, which is sourced from our trusted suppliers.
Revival beds are only ever manufactured in our Nottinghamshire workshop and come complete with free delivery and installation, as well as a 10 year guarantee.
Click on the link below to download your brochure.