4 Types of Mattresses and Their Pros and Cons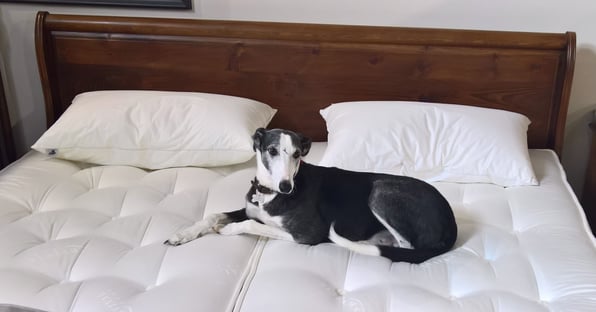 Your mattress is coming up to that unfortunate seven-year mark. It's looking a little worse for wear and you need to think about a replacement. However, before repurchasing your tried and true, you should explore all the options available to you.
This quick guide will outline some of the different types of mattresses you'll find on the market, whether online or in showrooms. From the traditional innerspring to luxury latex, we've gone into the pros and cons for each.
1. Innerspring Mattress
Innerspring or coil mattresses have been around since the early 1900s and used to be a popular choice. However, more people are privy to the benefits of high-quality mattresses and the innerspring is no longer commonplace in master bedrooms.
The mattress is constructed using steel coils that compress when you put weight on them. The shape, size and number of coils in a mattress can vary. As a general rule, more coils mean higher quality. The springs are joined together, meaning they're more affected by movement. This means you're likely to be disturbed in the night if sleeping with a restless partner.
The type of mattress is popular due to its affordability. However, with the economical upfront cost, you'll find this comes at a price. Innerspring mattresses, unfortunately, wear out significantly faster, meaning you'll have to purchase another far sooner than you anticipated.
While you'll experience more springiness and bounce, you may also experience audible squeaking when you move around on the bed, which is less than ideal when you're trying to get a good night's sleep.
| | |
| --- | --- |
| Pros | Cons |
| Affordable. | Will have to be replaced sooner. |
| Springy and bouncy. | Audible squeaking at the end of its lifespan. |
| Consumer familiarity. | Not as comfy as newer alternatives. |
2. Pocket Spring Mattress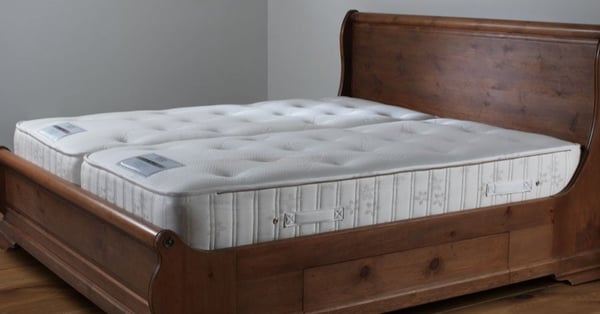 Known to be among the most widely sold spring mattresses, pocket-sprung mattresses feature comfort and elegance in a single package.
This type of mattress is considered more luxurious than its cousin, the innerspring mattress, as it's made from individual, small springs housed in their own sumptuous pocket of fabric.
This means each spring moves independently, providing you with significantly more support than other alternatives. Buying a mattress of this calibre should be thought of as an investment purchase as they can be pricey. However, they're more than worth it for the undisturbed snooze you'll experience after a long day.
| | |
| --- | --- |
| Pros | Cons |
| Doesn't sag in the middle. | Needs to be rotated periodically. |
| Very durable. | Heavy and require a sturdy bed frame. |
| Superb back support. | Can be expensive. |
3. Memory Foam Mattresses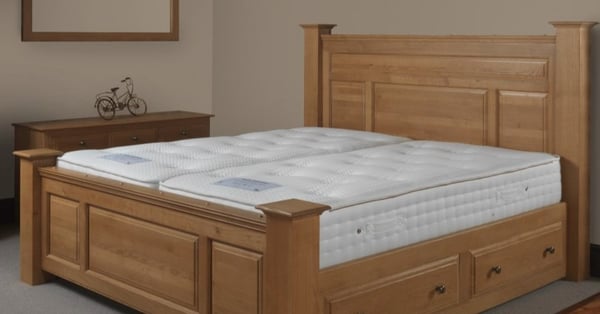 Invented by NASA in the late 1960s to improve the safety of aircraft cushions, memory foam is now widely used in a variety of products, from mattresses to shoes. Engineered by aerospace giants, this innovative energy-absorbent material can sometimes have a chemical scent.
It's a popular choice because of the "sinking in" sensation it creates. When you press your bodyweight onto this kind of foam, you'll find it moulds to your shape and slowly bounces back once you remove the weight. It's this extra cushioning and support that makes memory foam ideal for side sleepers and people who have painful conditions that want extra softness.
If you enjoy the feeling of sinking into your bed and being enveloped in cushioning, then a memory foam mattress may be just what you're in the market for.
| | |
| --- | --- |
| Pros | Cons |
| Supports spine alignment. | Can sometimes have a chemical smell. |
| Invented by NASA. | Inexpensive memory foam traps heat. |
| Moulds to your body. | Doesn't provide firm support for your body. |
4. Latex Mattress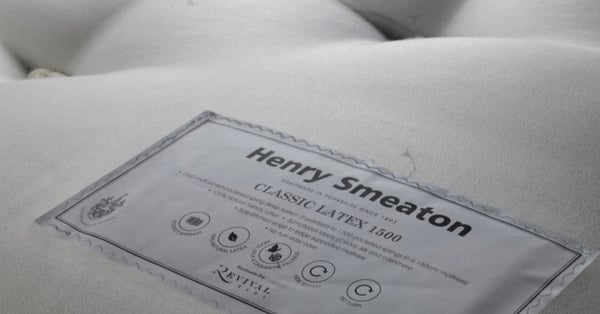 Latex is considered a more natural bedding option as natural latex is a byproduct of sap from a rubber tree.
This material is similar to memory foam in that it offers pressure relief and contouring, but not to the extent that memory foam does. Latex does provide more bounce, so whether you choose memory foam or latex is purely a matter of preference. If you're someone who likes to sink deeply into a mattress, you'll like memory foam better.
However, if you want something that is bouncy and retains less heat, you're better off with a latex mattress.
| | |
| --- | --- |
| Pros | Cons |
| All-natural with no chemicals. | Can be heavy. |
| Resistance to mould and dust mites. | More expensive than your average mattress. |
| Fantastic air circulation. | Possible motion transfer. |
There's no shortage of mattress choices available but not all are created equal. Undeniably, there's something for everyone to enjoy a Sunday afternoon snooze or deep slumber.
These are just a couple of the most popular options available you should consider when purchasing a new mattress. Comfort is key but there's also the environmental impact and longevity for you to consider. We've covered these elements and more in our latest guide.
Need Help Finding the Right Type of Mattress for You?
How do you know what mattress will make all dreams come true? We spend a third of our life sleeping, so it's important to invest in high-quality mattresses that allow us to do so comfortably.
From finding the perfect mattress to learning more about Henry Smeaton and their commitment to comfort, take a look at our mattress guide to learn more.