Store Bought vs Bespoke Wooden Beds: What's the Difference?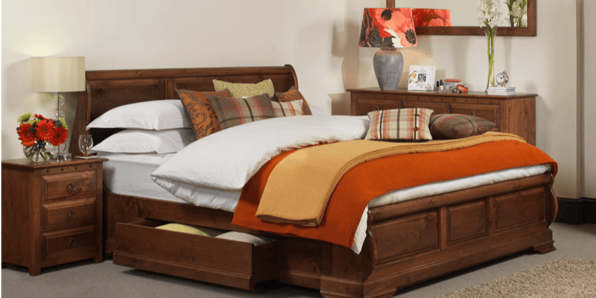 Store bought vs bespoke wooden beds is something many people wonder. What are the main differences?
Overall, handmade wooden beds are the ultimate statement for any bedroom and you're able to have them made to your precise requirements. Store bought alternatives, however, are ready to buy instantly and tend to be cheaper.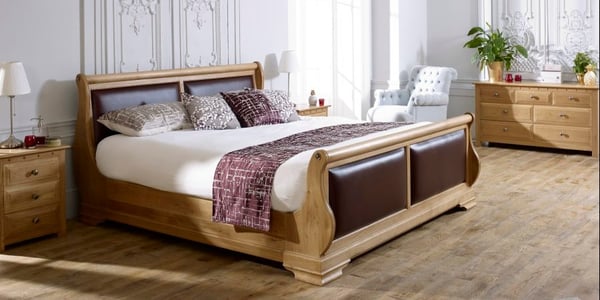 There are other advantages and disadvantages though. We'll discuss them all in this blog which will hopefully help you to make your decision when it comes to shopping for that all-important new bed.
We'll cover:
Store Bought Bed Advantages
Convenience
One of the major plus sides to buying a store bought bed is that you can pay for it, take it away the same day and be all tucked up in it by night time. That's great, isn't it? People are naturally impatient and when we have to wait for things to be delivered a week or even two weeks down the line, we can easily be put off buying them in the first place.
The convenience factor is also great if you're buying a bed in an emergency. If one of the stanchions on your children's bunk beds has broken, they won't have to face a night on a mattress on the floor or bunking up with you for the night. You can simply head to the store and replace it on the spot.
Attractive Price
Store bought beds tend to be much cheaper than a bespoke alternative. Everybody always wants to save that bit more money and by buying a shop bought bed, you're guaranteed to spend less than having one made for you by hand.
No Installation Required
Shop bought beds often come in flat pack packaging. This means that you'll have to build it yourself, or as everybody tends to do and spend a few hours arguing with each other over how to assemble it.
Whilst this doesn't sound like an advantage, it means that you don't have to pay any further installation costs and don't have to take a day off from work to wait in for the delivery. Although, you might want to get working on your grovelling and sincere apologies in advance.
Store Bought Bed Disadvantages
Night's Sleep… Again
Whilst your store bought bed might not break the bank, you may find yourself feeling tired in the morning after a disrupted night's sleep on a regular basis . After all, like anything, you get what you pay for.
Cheaper beds tend to have more movement in the frame, therefore every single turn at night could potentially disturb your partner and make the whole bed shake. Obviously, this will start to get annoying and boring pretty quick, which is why you need a sturdy, quality bed for a perfect night's sleep.
They Tend to be Poorer Quality
Whether it's shoes, jeans, tools or even beds, if you buy cheap, you buy twice.
Handmade bespoke beds offer you a lifetime guarantee, but you'll no doubt be looking to replace your shop bought bed every few years. They're not made with the same quality, so they're not as durable and are pretty impractical.
You're NOT Actually Saving Money in the Long Run
As they're poorer quality, you're going to have to constantly replace shop bought beds. Plus, because they're cheap, it's usually a full replacement that's bought. Rather than spending money trying to mend or maintain it, you may as well completely replace it.
You'll probably end up replacing the bed every five years (if you're lucky enough to get that out of it), whereas you wouldn't need to replace a bespoke handmade wooden bed for life. The spending will all mount up and for what you'd spend on a premium luxury bed, you'll probably exceed that by constantly having to buy new shop bought beds.
Bespoke Wooden Bed Advantages
Timeless Classic Styles
Not only do handmade wooden beds look good in any room, they look good in any room forever. Whether it's an elegant four poster, a classic sleigh bed or one of the more modern metropolitan beds, you can guarantee that these made-to-order pieces of furniture will still be in style in your lifetime and for your future generations.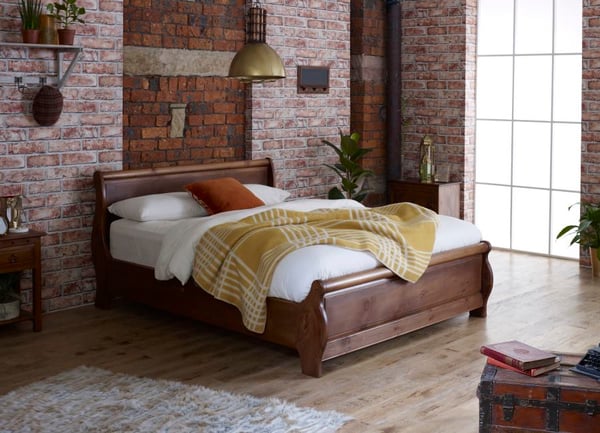 Ability to Customise Your Bed
When you opt for a handmade bed, it means you can tailor your bed to suit your specific needs. Whether it's intricate patterns, custom sizing or a special hand-painted colour, all options are possible because it's not off-the-shelf.
Achieve the Perfect Sleeping Pattern
A healthy sleeping pattern has so many benefits to your life. You'll be far more refreshed, in a better mood, more productive and won't be at an increased risk of any health-related issues. Sounds good, doesn't it?
Well, it all starts with the bed.
As with anything, if you're wanting maximum performance out of something, you wouldn't try and cut corners by selecting a budget option. Beds are no different.
Handmade beds are built to last and with the most dedicated attention to detail so you can be confident you'll always have the best chance of getting a great night's sleep.
They're More Than Just Beds
Ferrari. Rolex. Chanel. All of these are more than just your average car, watch and fashion designers. Similarly, bespoke wooden beds are more than just beds. A Revival bed is the perfect centrepiece for any room, but even the most perfect of rooms can be tarnished by choosing the wrong one.
By committing to an investment into one of these beds, you're making a statement for years to come with your bedroom. Once you've laid in your bespoke wooden bed for the first time, you'll be thinking why you ever looked anywhere else. They really are the hallmark of class and quality.
Bespoke Wooden Beds Disadvantages
The Price
There's no denying it; bespoke wooden beds are expensive and it's enough to put off a lot of people on first glance.
But do they really cost that much more than replacing a shop bought alternative three or four times? No. We advise you to look at it as more of an investment in a quality piece of furniture that will last you a lifetime.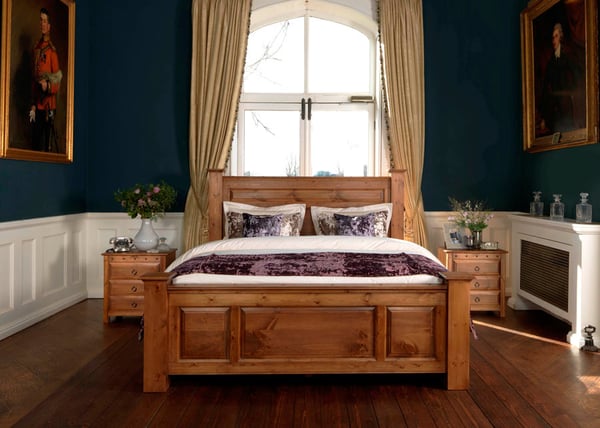 Perfection Can't be Hurried
Revival beds are handmade to order in our Nottinghamshire workshops by our master craftsmen and women. Which unfortunately means that you won't be able to experience the sheer comfort of them on the night that you purchase the bed.
We understand once you've bought something you want it right away, but perfection can't be hurried and you won't be disappointed once it arrives.
Installation Required
As the bed has to be delivered, you may have to take a day off or work from home to account for it. This can be quite an inconvenience, but at Revival Beds, we offer a free "shoes off" delivery and installation service which is hopefully a silver lining.
Our Verdict
We might be biased, but it's not even a question in our eyes.
Handmade bespoke wooden beds are more than just a bed, they're a life investment in a quality furniture piece for your home. They're timelessly stylish, made to last, will brighten up any bedroom and most importantly, maximise the chance of a perfect night's sleep.
Choose Your Dream Revival Bed
So, now you've seen the pros and cons of both options, it's time for you to make your decision. As we've said, you need to be sure that you pick the correct bed that meets all your needs. After all, a handmade wooden bed will last you a lifetime so you need to be confident that it's absolutely perfect. Which we can assure you it definitely will be.
To view our range of stunning beds and bedroom furniture, download our free brochure below. Or, if you have any further questions, feel free to get in touch and one of our experts will be on hand to help.