How to get your bedroom furniture arrangement just right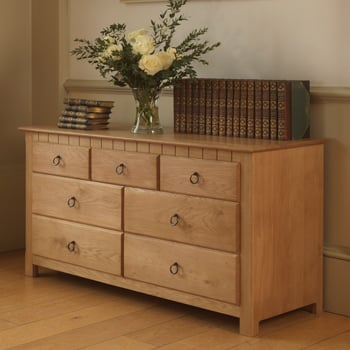 How To Get The Perfect Bedroom Layout
You've spent weeks choosing the perfect colour scheme for your new bedroom. You've probably spent even longer finding your ideal bed. But before you can lie back and dream of all the great nights' sleep that await you, you need to give some thought to how you're going to achieve the right balance between sufficient storage and maximum space in your new boudoir.
Deciding where to place bedroom furniture isn't something that you should lose any sleep over. But if you don't want your oasis of calm to be tainted by stubbed toes, over-filled drawers and unsightly extension leads, you do need to give it a bit of thought.
It's all too easy to choose your perfect bed and then simply buy all the other pieces in the matching bedroom suite. Don't! Before you 'add to basket', put down your iPad and grab a pen, paper and a measuring tape. It need only take 5 minutes, but it could be the difference between your bedroom becoming your sanctuary or your sanatorium.
Getting started – the bed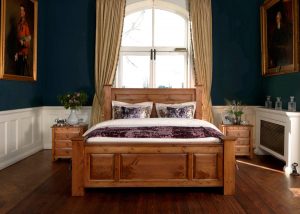 The general rule is to start with the largest piece of furniture – usually your bed.
The traditional place for a bed is in the centre of the wall opposite the main door to the room – with the headboard against a flat wall and the feet pointing towards the door. This is a particularly good choice if you want to make a feature of your headboard.
But don't feel bound by tradition. If an unconventional arrangement will free up space or use it in a more interesting way, go for it. If you have a large bedroom and can sacrifice a bit of floor space, think about angling the headboard in one of the corners for a modern look, or putting the bed in the centre of the room to make a real feature of it.
Although there are no such things as the golden rules of bed placement, there are a few pointers that usually hold true:
don't put your bed beneath a window, as you might find yourself sleeping in an uncomfortable draught
try not to block natural light with a headboard
make sure that your bed doesn't obstruct doorways or walkways through the room, or prevent drawers or wardrobe doors fully opening
leave enough room around the bed so that you can get in and out of it easily (preferably at least 60cm /2ft)
point your bed away from incoming light such as street lamps or the morning sun.
Balance the room – large pieces next
Once you've decided on the perfect place for your bed, try to balance it by putting a substantial piece of furniture such as a wide chest of drawers, vanity table or chaise longue opposite it.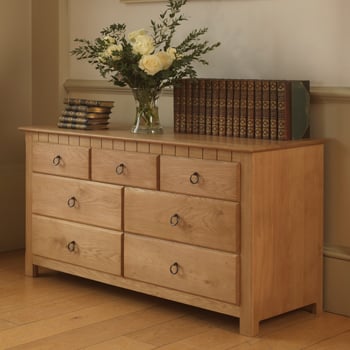 Wide chests of drawers or dressing tables often work well on walls with windows, fitting comfortably below the sill, while tall, narrow chests of drawers look best nestled into corners.
Before you commit a piece of furniture to a particular spot, think carefully about how you want to use your room. If you're going to watch a lot of television in bed, for example, it makes sense to put something opposite the bed that you can use as a TV stand, such as a wide chest of drawers.
Smaller pieces
Once you've got the largest pieces of furniture where you want them, think about smaller pieces such as bedside tables, chairs and bookshelves.
For aesthetic balance as well as practicality, place a nightstand on each side of the bed. If you're likely to spend a lot of time reading in your bedroom, but don't necessarily want to always be in bed, consider placing an ottoman at the foot of the bed, or a small armchair in a corner of the room.
And finally…
Your bedroom is your space. It needs to be arranged to be functional, but it should also reflect your personality, tastes and comforts. Don't feel inhibited by convention. But also don't add furniture for furniture's sake. Clutter is not synonymous with rest and relaxation – the key ingredients for a good night's sleep.
Download your free brochure
Revival Beds handcraft solid wooden beds including sleigh beds and four poster beds in Nottinghamshire. To find out more, simply click on the link below to download your free brochure.