Four Poster Beds: Not Just For Fairy Tales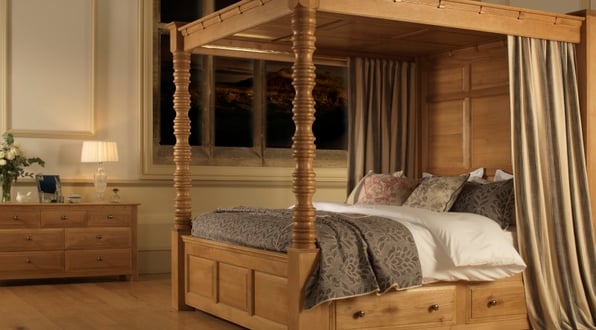 Four-Poster Beds Evoke Images Of Romance & Elegance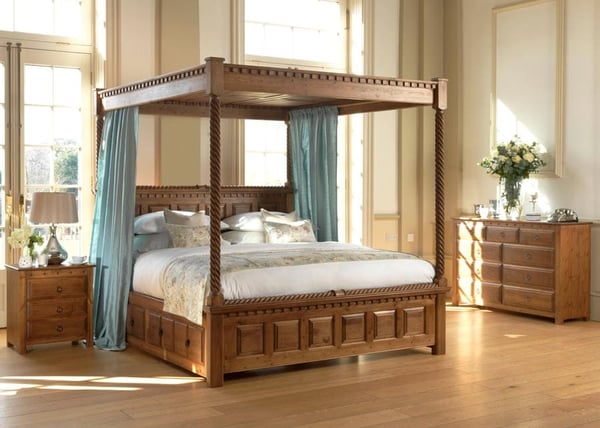 Beautifully carved, with curtains and canopies for privacy and that extra element of opulence, they're often a feature of period dramas, stately homes and impressive residences where status and style is everything. The traditional British four-poster bed has been a popular style since the late 14th century, according to references in literature and official documents. In those days, a standard bed would have been comparatively basic, so anything with that little something extra would have been highly coveted.
Impressive Beds Through History
Canopies were first added to sleeping areas for practical reasons, and took the form of a piece of material suspended from the ceiling and draped around the bed. These beds were useful in a number of ways:
Enclosed canopies served to keep the bed's owner warm and cosy during chilly nights in draughty rooms without the benefit of central heating!
Bedchambers were often shared, with servants sometimes sleeping in the same room as their employers, so canopies and drapes offered a degree of privacy.
Another practicality (which somehow detracts from the romantic imagery!) is that in 13th and 14th century Europe, unless you were fortunate to live in a castle or manor house, roofs were often made from thatch, and insects and animal droppings falling from the ceiling were a real problem in the bedroom. Canopy beds would have provided protection for the sleeper against unwanted nasties joining them during the night!
As the style developed, canopies suspended from ceilings became less common in favour of curtain enclosures supported by beams and posts built into the frame of the bed itself. It is this design that we know today as a typical four-poster bed.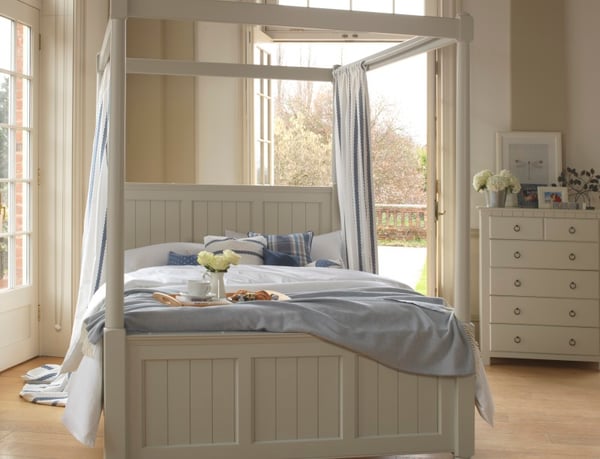 Revival Four-Posters: A Sign of Quality
With four-poster beds being a symbol of success and wealth, it stands to reason that they should be made of the very finest materials, and handcrafted to perfection. We've kept those ideals in mind when putting together our collection of Revival Four-Poster Beds.
All styles in our range are hand-built from sustainable solid wood by a team of talented craftsmen. Whether your taste is for ornate carvings and imposing stature or you'd prefer something simpler and more understated that still captures the romance and tradition of the style, we have a bed to suit. From our impressive Ambassador for bigger bedrooms to the subtlety and charm of the Vermont four-poster bed, we have a style to suit all bedroom styles and personal tastes.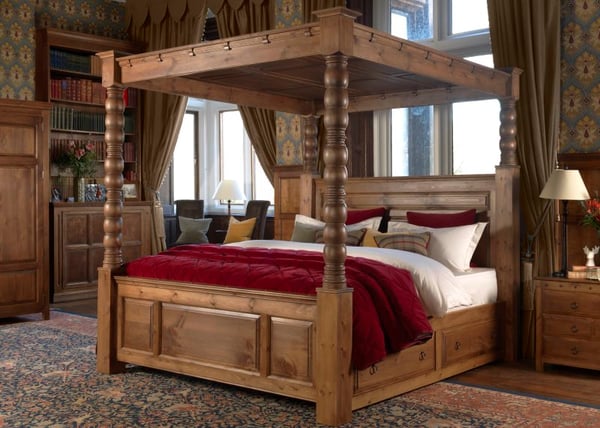 Bespoke Beds To Suit All Tastes
Are you looking for a bed that will make a statement in your room, or would you prefer something to tone in with your existing décor? All our beautiful four-poster beds are made using high-quality solid oak and can be finished with your choice of hand-applied wax or soft-toned paint.
Our bespoke options don't end there: as four-posters are naturally a large style of bed, we are able to build them in sizes that are bigger than standard King or Super King size. If you're in need of extra stretching space or have a large room to make your bed a centrepiece, take a look at our Extra Wide Beds.
We can custom make your chosen bed style in sizes including the 7' Emperor and 8' Caesar. Even if that isn't big enough for your requirements, find out more about our Bespoke Beds here. We make it easy for you to live like a lord or lady and have the bed of your dreams with our range of custom-made mattresses, bedding and linens to match your bespoke four-poster bed.
This stunning traditional style may not be strictly necessary for practical reasons in today's world of separate bedrooms, well-insulated rooms and clean homes, but choosing a four-poster bed is a fabulous design statement which will transform your bedroom into your own personal palace.
Download Your Free Brochure
Revival four poster beds are handmade in Nottinghamshire and come complete with free delivery and installation, as well as a 10 year guarantee.
To download your free brochure, simply click on the link below.