The 6 Perfect Types of Bed Frames and What's So Good About Them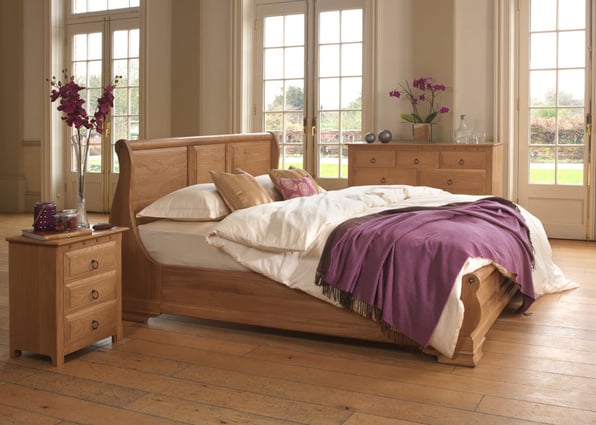 If there's one thing that most of us love, it's that relief of climbing into bed after a hard day at work and just unwinding and relaxing. But in order to get that relaxing experience and give yourself the best chance of obtaining an all-important healthy sleeping pattern, you need to choose the right bed.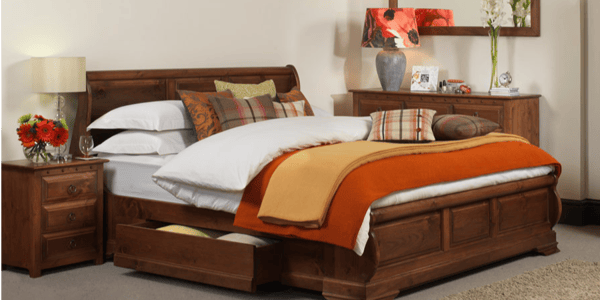 It all starts with choosing the right bed frame, but what are the different kinds and what's so good about them? Well, if you're unsure don't worry, this post will outline and explain everything you need to know in order to help you choose the most suitable one for your bedroom.
We'll cover:
Sleigh Beds
Handmade wooden sleigh beds are perfect for adding a unique blend of traditional French-inspired design and a chic yet statement look to any bedroom.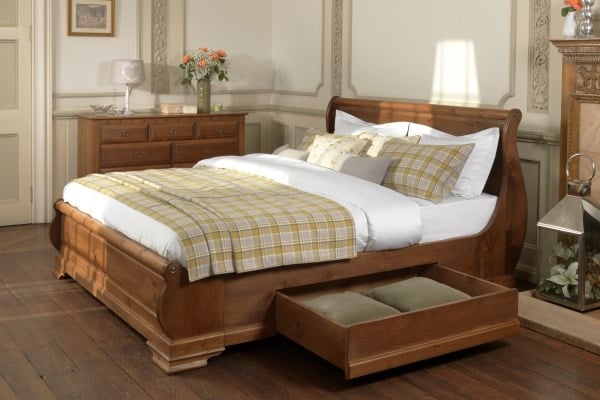 Sleigh beds are elegant and ooze class, which is something any room could benefit from. Simplistic, luxurious and available in a range of natural wood and hand-painted finishes, these solid wood masterpieces are suited to a vast array of bedrooms.
Whether it's the master bedroom of a modern suburban detached house or a traditional cottage, this bed will not look out of place.
Four-Poster Beds
The most romantic and elegant of all bed frames - the four-poster. Just one look at these stunning pieces and you can instantly see how prestigious they are. Four-poster beds are the kind of beds that you associate with royalty or that you see on the silver screen and there's a good reason for it.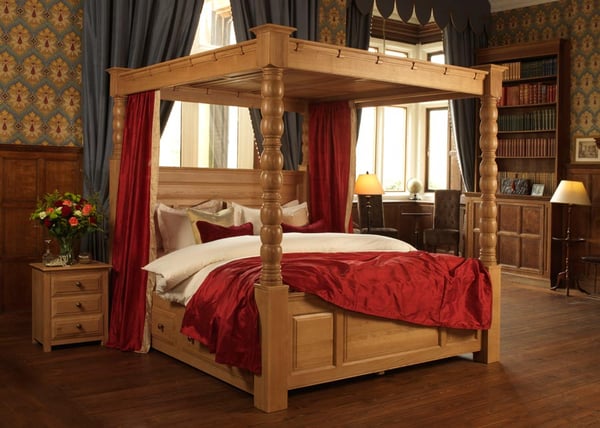 The Ambassador Four Poster Bed
Whether you want to make a statement with a dramatic canopy bed that will steal the limelight of most rooms or if you prefer a sleek, modern look, there's a four-poster bed for different tastes.
Is there a better complement for a large, open-spaced bedroom than a regal four-poster bed? We think not.
Leather Beds
For some people, sleigh beds are a little too plain. They might think they lack a little "oomph". This is where leather beds come in. The additional leather flourishes help enhance that sophisticated yet minimal look to any bedroom - especially if they coordinate with your decor.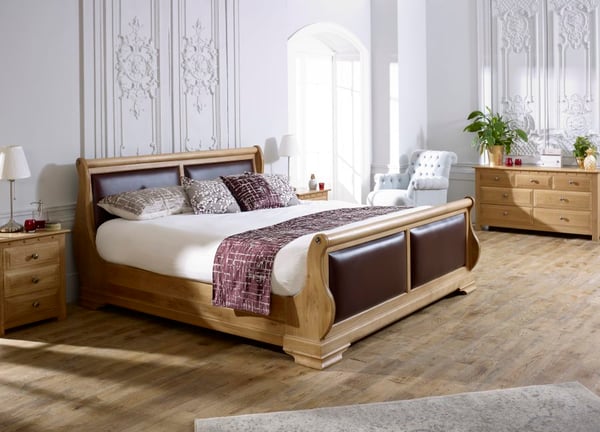 For example, if you matched the leather panels in your Revival bed to the drapes or the carpet.
At Revival Beds, you can choose from 20 different shades of leather or if you still can't find that perfect finish, we have over 100 bespoke colours to help you find that specific shade you've been longing after.
Traditional Beds
For a more conventional bedroom style, traditional beds are the perfect choice. There are no specific guidelines as to what a traditional bed is, however they usually lend themselves to darker wood finishes which give a nice light touch to the room when married with light bed linen.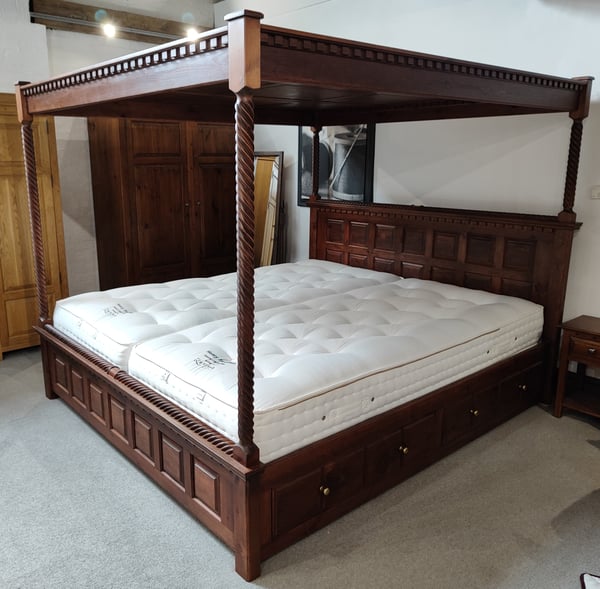 The County Kerry Bed
Traditional bed designs usually feature square panelling and intricate design detailing - made bespoke to your tastes, of course. An ideal addition to your bedroom, they're also available with additional underbed storage which is perfect for storing towels, bedding, clothes and more.
New England Beds
If you're after a calm and harmonising finish to your bedroom, then look no further than New England beds. These stunning wooden bed frames are particularly popular in pastel colours, which promote an easy-going feel to the room.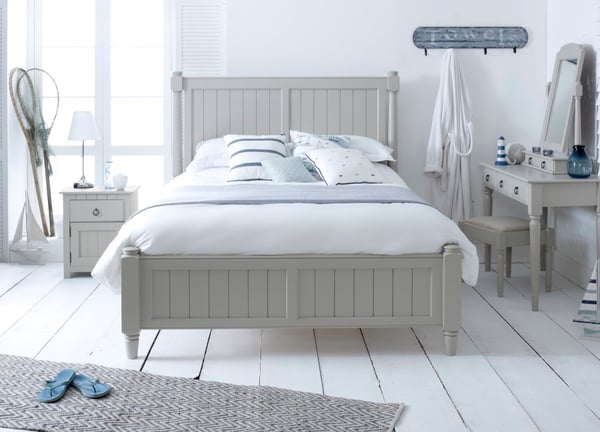 These beds offer a well-balanced blend of traditional and contemporary, and would suit a variety of bedroom settings. In fact, a bed of this style wouldn't look out of place in a beach house in California or the master bedroom of a quaint house in Hertfordshire.
Metropolitan Beds
Looking for a new bed for the loft conversion? Or even searching out for the perfect bed frame for that cosmopolitan flat in the city? Metropolitan beds offer that timeless design and style that will look superb in any setting.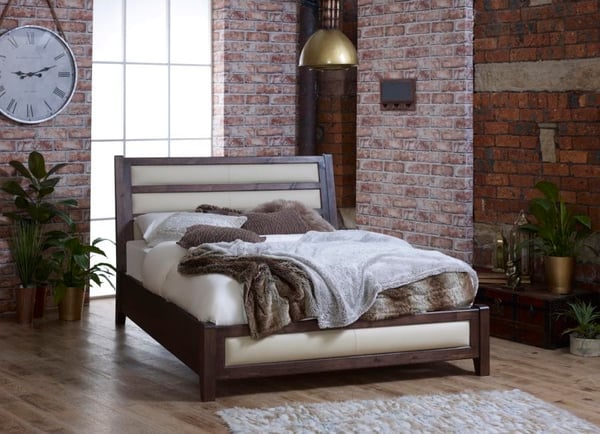 The Studio Bed
They're minimalistic and sleek but can add plenty of character and an enormous amount of style to your bedroom - especially when a luxe faux fur throw's involved. The beds are available in 14 different shades or natural wood and hand-painted finishes, so you needn't worry about the bed not matching up with your modern, chic decor.
Choose Your Dream Revival Bed
So, now you've seen the six different types of dreamy bed frames that you should choose from, it's actually time to pick the perfect bed. We know this is a big commitment, but buying a Revival Bed isn't just a purchase - it's an investment. The decision shouldn't be taken lightly.
To help you with your decision, download our free brochure below and take the first step towards picking the bed you'll look forward to climbing into for life.